In 1999, a journeyman chef named Jimmy Bradley opened The Red Cat in New York's Chelsea neighborhood. With a down-to-earth setting, The Red Cat eschewed the very notion of "concept," offering outstanding food and professional, attitude-free service. To this day, The Red Cat remains defined by this simple approach. Bradley and his staff focus on the little things, believing that details are the difference between good and great. The Red Cat is an extension of Bradley's legendary commitment to hospitality, and his philosophy is simple:
"No matter where I've lived, worked or traveled, there's always been a special restaurant, a can-do joint that's all things to all people," says Bradley. "They're gathering places where you can drop in for a drink or a meal at the bar, or sit down in a dining room where you can gather with friends to end the day or start the evening. As long as there's good food and good people, good times are sure to follow."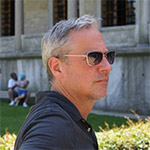 As author and chef/owner of popular New York City restaurant The Red Cat, Jimmy Bradley presides over a neighborhood joint that has become a destination for guests from around the city, and the country. A purveyor of straightforward, occasionally irreverent food and contagious conviviality, all of it wrapped up in an attitude-free package, Jimmy has helped contemporary diners rediscover the intrinsic value of classic Mediterranean cuisine, reinterpreted for a modern American clientele. Bradley has been featured in New York magazine, Food & Wine, Bon Appetit, and The New York Times, and on television programs such as The TODAY Show, Bravo's Top Chef Masters and the CBS Early Show. His first cookbook, The Red Cat Cookbook, was published by Clarkson Potter in 2006.